Real estate title defects costs Canadians millions of dollars every year. A reputable real estate lawyer can help protect a seller's and buyer's interests by performing several tasks, including the common title search.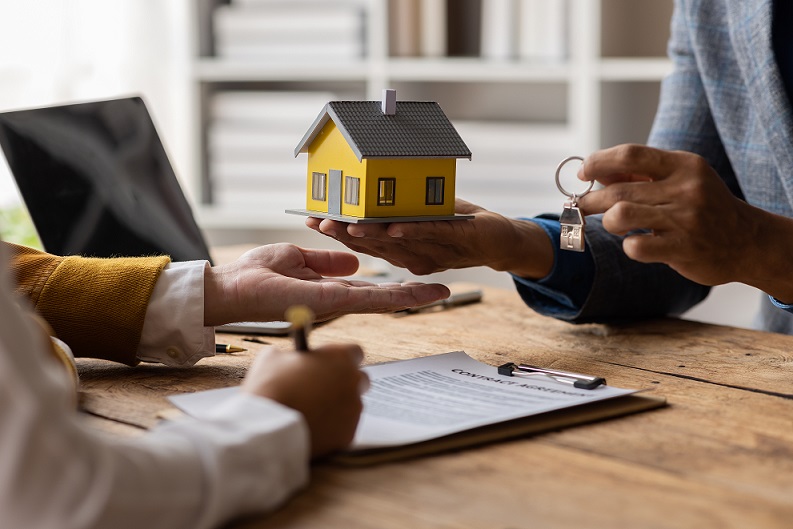 What Is a Title Defect?
A defective title is described as ownership of a vehicle, trademark, or property that cannot be legally transferred to a new owner due to unresolved issues. Whether the defect is a lien by a creditor, a claim of ownership by an uninvolved party, or a fraudulent case, the title defect must be addressed before the selling process is complete.
It is vital that a real estate lawyer is hired to conduct a title search on the property in question. By reviewing title reports and abstracts, title problems may be able to be quickly and easily resolved without the need for court proceedings.
Identifying Common Types of Title Defects
In the world of real estate law, there are various types of title defects that can delay or stop a sale from being completed. Title insurance can help a buyer reduce costs caused by these defects.
Unpaid Liens or Mortgages
Without a proper document search of a property, there may be unpaid liens or mortgages against the property. Any unpaid property tax, mortgage, or lien from a creditor of the current owner will need to be paid before the closing process.
Forged or Fraudulent Documents
The sale of a property can be reneged if a forged or fraudulent document is discovered. This is a common occurrence with online documents as a stranger, a real estate agent/agency, the current owner, or another interested party can use personal information for monetary gains.
Errors in Public Records
The public record documentation of a property may represent errors in spelling of names, omission of full legal names, or a variation of the size description of the property. Any error can slow or halt the process of a property sale, leaving the current owner responsible for negligence.
Boundary Disputes
Boundary disputes are common among neighbouring properties in situations where the parties involved do not have an official documentation of the property lines. A structure, fence, or road access may become a legal battle over ownership and/or the responsibility of a property owner.
Undisclosed Easements or Encroachments
Newer developments rarely involve undisclosed easements or encroachments. These types of title defect is addressed when unmarked property lines are found to be on to a neighbouring property and not adhered to the registered land documents.
Missing Heirs or Unresolved Claims
When a property sells, oftentimes there are unknown interested parties that come forward to claim a share in the property. Whether the previous owner passed away or neglected to inform heirs of their intention to sell, unresolved claims can occur.
How to Fix Title Defects
A real estate lawyer can help resolve title defect situations through a number of resources. Depending on the type of defect, the current or previous owner will need to be involved for resolution.
Clear Unpaid Liens or Mortgages
Unpaid liens or mortgages by the current owner can result in an unreleased deed of trust. This can be resolved by paying off the outstanding debt. In situations where the current owner cannot complete this obligation, a real estate lawyer may be able to negotiate lien releases with the parties involved.
Deal with Forged or Fraudulent Documents
When a title defect borders on forgery or fraud, the documents must be reported to the appropriate authorities. Once aware of the situation, the property owner should immediately obtain legal counsel through a real estate lawyer to have the defect legally changed through the courts.
Correct Errors in Public Records
Correcting errors in public records requires real estate lawyers to gather evidence to prove the error. Whether the legal names are misspelled or changed or if the land measurements are contradicting the sale documents, it needs to be legally corrected. Petitioning for a correction or amendment of a title ownership must be done through legal action.
Resolve Boundary Disputes
A real estate lawyer will provide solutions to resolve boundary disputes by engaging in mediation or arbitration. In cases where the boundary lines are questioned or blurred, a common solution may be to file a lawsuit if necessary.
Address Undisclosed Easements or Encroachments
By conducting a survey to identify boundaries, a title lawyer can provide a legal standpoint for the owner on the basis of property lines. Undisclosed easements or encroachments can be negotiated with neighbouring property owners and a corrective deed can be submitted to address these concerns.
Handle Missing Heirs or Unresolved Claims
Fixing this form of title defect can be addressed by conducting genealogical research into the property history. A title search lawyer will initiate quiet title actions to seek protection against any unknown heirs of former owners of the property.
Preventing Future Title Defects
Here are some ways to avoid future title defects.
Obtain Title Insurance
Title insurance offers the opportunity to financially protect the owner from possible losses due to property title defects. Benefits of title insurance include risk of another party's interest in the property, any municipal zoning laws that may impede the ownership, property fraud, and impingements uncovered by a new survey. The title insurance may cover any financial costs to restore the property to the rightful owner.
Conduct Thorough Due Diligence
To help prevent dealing with title defects, it is vital to have a title transfer lawyer perform due diligence by reviewing all documents and records. Property searches will uncover any and all ownership and charges that have been legally registered to the property.
Seek Proactive Measures to Prevent Future Issues
The legal experts at Zinati Kay – Real Estate Lawyers can help navigate the complex world of property title searches. As a full real estate law firm, we focus on title transfers, mortgage refinancing, buying, and selling properties. Call us at (416) 321-8766, email us at info@zinatikay.com, or fill out our form here.