Buying or selling real estate, whether it's commercial or residential, is an important life-altering decision—one where you need expert advice to help guide you in the right direction.
It's the reason many people choose to hire an experienced real estate agent to help them find what they're looking for within their budget. It's also the reason that many people hire a good real estate lawyer in Toronto to guarantee that you're getting the absolute best deal possible on their property purchase or sale.
Given then current state of the housing market in Toronto and the GTA, hiring a qualified real estate closing lawyer in Toronto is the smart move before making such a big investment.
Here are few circumstances in which a real estate lawyer in downtown Toronto and the GTA is extremely useful.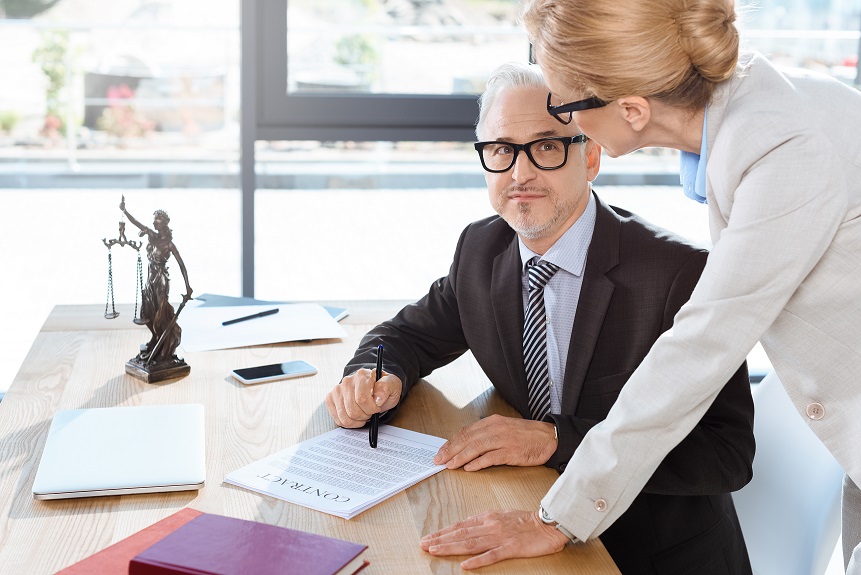 Reviewing Your Purchase Contract
Unless you have a background in real estate yourself, it can often be difficult to decipher your purchase contract on your own. Purchase contracts are often littered with legal jargon that can be wordy and confusing. Real estate lawyers in Toronto are well-educated and experienced enough to carefully review your contract with a fine-toothed comb and ensure that you're getting your fair share in the deal. They have your best interests at heart and will look out for any potential discrepancies in your purchase contract and review the terms of the sale with you to ensure that you understand exactly what you're getting.
Standard purchase contracts should include:
An offer and acceptance
Buyer and seller information
Closing costs and the person who will pay them
A list of fixtures and appliances included or excluded in the sale
Financial deposit amounts
Full property pricing and financing
Contract termination conditions (if applicable)
Contingency terms to facilitate the sale
Complex Sales Stipulations
Every real estate transaction is completely unique. Sometimes, rare or complex situations may arise that require legal expertise. That's where an experienced Toronto real estate lawyer comes in. Depending on the specifics of the property sale conditions, you may need a real estate lawyer to negotiate the terms of the sale or purchase on your behalf. Legal disputes can arise over things like property line delineations, oil and gas rights, water rights, adverse possession claims, the type of property in question (commercial, residential, or historical), etc.
These are all situations in which securing the services of a good real estate lawyer in Toronto is a good idea.
When Legal Issues Arise
Even relatively straightforward real estate transactions can have some legal complications if they're not addressed in the right way. For instance, tenants living in a rental property can complicate matters, especially if the new owner has a higher mortgage and tries to increase the monthly rent. Another common legal issue that can arise is if the previous owner made illegal additions or renovations that go against local building codes.
A good real estate lawyer in Toronto is adept at resolving these issues before the transaction is finalized.
Dividing Assets in a Divorce Settlement
One of the most difficult decisions couples who have decided to terminate their marriage or common law relationship have to make is how to divide their most valuable assets. How do they decide who gets to keep the house and what to do with it?
Going through a divorce is hard enough as it is, but there are legal stipulations and agreements involved in asset division that must be properly addressed. Property divisions in divorce settlements can get complicated for a number of reasons, depending on the scenario.
One of the spouses may want to keep the house, but can't afford the mortgage and bill payments on a single income
The other spouse may be adamant about selling the property to make a profit and get closure
There may be equity in the house
One party might be named on the mortgage, but not the other
Regardless of the circumstances of the divorce, both parties should have ample legal representation to uphold their rights and ensure they're getting everything they're entitled to, even if the breakup is amicable.
Occurrence of Post-Sale Problems
During the purchasing process, you only get to visit a property a few times for short periods. Unfortunately, that's not always enough time to spot potential structural issues. Oftentimes, certain structural issues don't become entirely apparent until after you've been living or working in a space for a period of time. Some issues such as low water pressure in the shower or a slow flushing toilet are just normal aspects of property ownership that are now your responsibility to correct if you care to do so.
Bigger problems such as water damage or flooding caused by expensive structural deformities that the seller knew about but didn't disclose during the sales transaction are more of a cause for potential legal action. These types of issues typically only become apparent during a rainfall, so you might not notice them right away.
Working with a real estate lawyer in Toronto will determine whether the seller has a legal liability to pay for the required repairs. By law, sellers are required to disclose whether the property has certain structural issues that could be dangerous to your health or physical safety. These include mould, contamination, foundational and structural problems, water damage, damaged roofing, etc.
If a seller knowingly fails to disclose that these types of issues exist in the property, then you could be entitled to sue them for the cost of repairs and any other damages.
High Property Value
Real estate transactions are a big investment. There's a lot at stake regardless of how much money you're spending. However, individuals that put a lot of money into upgrading and maintaining a property certainly have a lot more to lose than those who are simply selling their property as is. The higher the value of your property is, the more you should consider hiring a real estate lawyerin your area to handle the legalities of the transaction for you.
Real estate lawyers will draw up a contract that protects your best interest as a buyer and negotiate contractual terms on your behalf if you're a buyer to ensure you're getting the best possible deal.
Get a Quote from a Toronto Real Estate Lawyer!
Are you planning on buying or selling commercial or residential real estate in the near future? For over 25 years, Zinati Kay – Real Estate Lawyers has been one of the top real estate law firms in Toronto. Whether you're re-financing, buying, selling, mortgaging, or transferring a property title, we provide comprehensive real estate services with fixed closing costs to accommodate your needs. Contact us today to learn more and get a quote.