Situations may arise when you want or need to transfer the ownership of your home. This transfer is known as title transfer and it ensures that your property now belongs to someone else. A title transfer can be partial or complete. That is, you can transfer a portion of your property or all of it. Whether you are a retiring parent transferring the title of your family home to your child or if you are selling to a buyer, here's what you should know before transferring land ownership.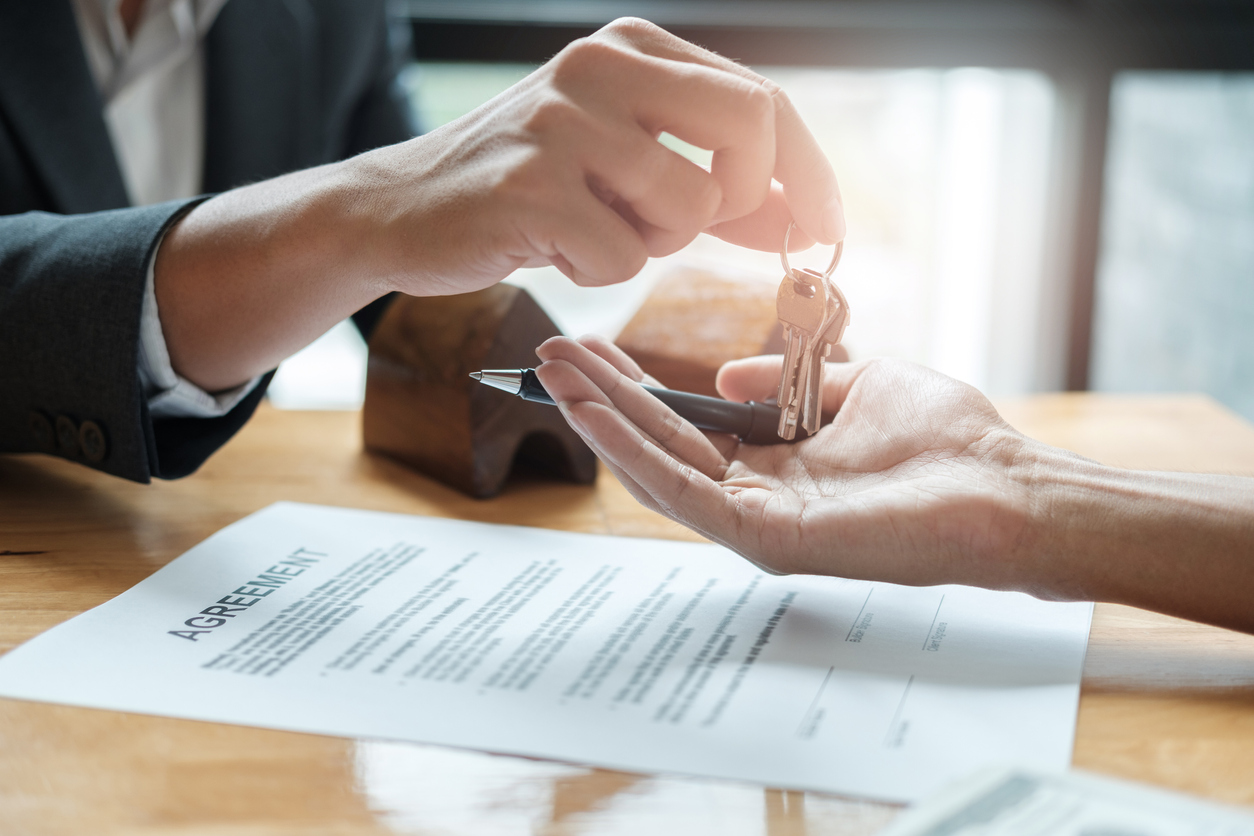 Image Source: istockphoto.com/Natee Meepian
What Is a Land Transfer?
A land transfer is the process by which a seller transfers the ownership title of a property to a buyer. At the end of a purchase agreement, a transfer of title will be done to ensure the property now officially belongs to the new owner. However, there are many reasons for a partial or full title transfer than those associated with an agreement of purchase and sale, such as when a person wants to refinance their property, if there have been family issues such as separation or divorce, or if the property is being passed to another family member, friend, or business partner.
What Is the Land Title Transfer Procedure?
The registration process for a land title transfer may take about a week to complete, but working with a land transfer lawyer will allow the process to be completed in a timely and efficient manner. In Ontario, only a real estate lawyer can transfer title to a property. The following information is required for a real estate lawyer to help you:
Completed title transfer intake form?
Ownership document—we can find it in the system if you cannot, do not worry
Property tax bill
Confirmation from your bank that you are able to transfer your title (if applicable)
Common Land Transfer Scenarios
Transferring Land Title after Death
There are two ways to transfer ownership of a property when the owner dies. The first way is known as surviving joint tenant. When the owner appears as a joint tenant on a title, the surviving owner automatically receives full ownership. A simple registration is all that is required and there is no land transfer tax. The other option is to transfer to an executor or personal representative. In this case, the title is transferred to the executor on their will, and an application for transmission must be completed. This is commonly known as the probate process. Sometimes there are probate fees.
Transferring Land to a Family Member
In some cases, you may wish or need to transfer your property ownership to a family member. Whether you are transferring your property to your child or your parent, there are different methods to do this. If it is the transfers between immediate family members or spouses one lawyer can act on both sides and take care of the transfer, presuming there are no conflict of interest.
Cost of Transferring Land Ownership
When transferring land ownership there are certain taxes you must pay. These are most commonly paid on purchases by the buyer. However, what you should know is that if there is a mortgage on the property land transfer tax is also applicable on transfers between family members even where no money is paid. Careful consideration should be given to these implications, and federal income tax concerns addressed, before a transfer of title is made.
According to the Ontario Ministry of Finance, the Land Transfer Tax on land transfer values are as follows:
Amounts up to and including $55,000: 0.5%
Amounts exceeding $55,000, up to and including $250,000: 1.0%
Amounts exceeding $250,000, up to and including $400,000:1.5%
Amounts exceeding $400,000: 2.0%
Amounts exceeding $2,000,000, where the land contains one or two single family residences: 2.5%.
When you buy a home in Toronto, these taxes are usually doubled. First-time homebuyers who are also permanent Ontario residents and will be living in the home being purchased may be eligible for a rebate on this tax of up to $4,000 or $8,475 in Toronto. You can speak to your real estate lawyer about whether you are eligible for the credit. Generally, on a transfer of title without an agreement of purchase and sale there is no eligibility for the land transfer tax rebate. Therefore, sometimes it will be worthwhile to structure the transfer through an agreement of purchase and sale to allow for eligibility of the land transfer tax rebate.
Title insurance
Sometimes a transfer of title will void the existing title insurance policy. This might mean that the new owner will have to obtain title insurance, depending on whether they want to cover problems that could arise due to issues along the way. There is no fixed fee for insurance, but it varies per case. Depending on your situation, there may be other costs associated with title search, so working with a real estate lawyer is a great way to know exactly what you're paying for.
Land Title Transferring FAQs
How long does it take to transfer ownership of land?
The average time to transfer ownership of a property about 5 to 10 business days from when the lawyer is engaged.
Can you gift land to family?
Yes, you can gift land to a family member, and in some cases gifting real estate attracts tax consequences. This should be addressed with your accountant. Parents or grandparents who want to give their home to their kids or grandchildren are able to do this in several ways. They can also offer co-ownership, sharing the property as a joint home, giving the property over entirely or perhaps keeping a percentage.
How is land transfer tax calculated?
Land transfer tax is calculated based on the value of the property (purchase price). This tax is payable by the buyer when they register to take ownership. On a transfer of title without funds being paid the land transfer tax is often calculated as a function of the existing mortgage being assumed. The calculation is a little technical and should be discussed with your real estate lawyer so that you are not surprised about the costs.
Get Help from Real Estate Lawyers in Toronto
Selling, buying, or transferring the title to your home can be complicated processes, and without the right guidance and support, you may realize you are paying for things you did not expect. When dealing with your title, it is important that you know exactly what you are doing, and professional real estate lawyers can help.
Zinati Kay – Real Estate Lawyers is the right team to trust when you are looking to transfer the title of your home. As residential mortgage lawyers in Toronto we provide fixed closing costs to buyers and sellers when they buy, sell, mortgage, or title transfer their property. With over 25 years of experience in the real estate industry, and 21,000 closed real estate transactions, we know the ins and outs and can provide valuable guidance to you. We have three lawyers to service our clients and were one of the first firms to provide fixed closing costs. We provide professional service and reasonable real estate lawyer fees and have thousands of satisfied clients to prove it. If you need any assistance, contact us at 416-321-8766 for more information about our services.